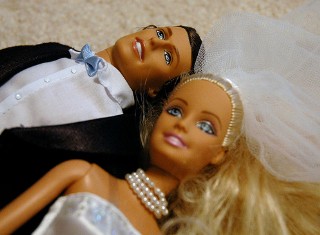 Yes, with Barbie and Ken! (Thanks to www.teen-beauty-tips.com for this photo!)
All right, this may sound lame - and stupid and silly - but why not design your own clothes for Barbie and Ken? There may be dolls still lying around the house, waiting to be dressed and used for artistic inspiration.
You can even have your own fashion show and have a gown design contest amongst your friends! Think of it as friendly, kiddie competition.
You can even have someone exercise their wits with the fashion show voice over.
Barbie is wearing a skirt made from the pieces of fabric that were cut out of last year's curtains, while Ken is wearing a pair of khaki shorts that were, in all likelihood, designed for Barbie.
You can be as creative as you please - or you can play with dolls on your own, too. Think of it: a quiet afternoon spent dressing up Barbie and pretending that she's off to a meeting of top scientists who want to discuss the latest in cold fusion. Now, how would she dress up for that?
Or, think about Ken the Progressive Farmer, who has his own farm and his own cooperative, and works closely with scientists in producing better crops.
Ken the Barista? Barbie the CEO? There are many ways for you to dress up Ken and Barbie - and maybe, just maybe, they could actually help you stay sane (even if, you know, physically, they couldn't actually be human).